Our Team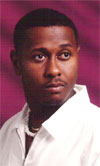 Terry Lovique,
Terry Lovique is the founder of the agency "Lovique Agentur".
The multi-talent and international artist was born and raised in Bassett, VA.
He studied classical music at Virginia State University under the directions of Aldrich Atkins and Janella Edmonds.
While studying music, he had the opportunity to travel with the Virginia State Concert and Gospel Choir, landing him on the same stages with different gospel artists, such as Tramaine Hawkins, Vickie Winans, Shirley Ceasar, Daryl Coley and Richard Smallwood. He came to Europe in 1997, touring through Spain, Austria, Italy and Germany with "The Black Gospel Pearls", led by Donna Brown.
He then had an engagement in the very successful production of "Porgy and Bess" led by Götz Friedrich at "Bregenzer Festspiele".
He released 2 songs and music videos: "What´s going on", produced by X-Tatic and "Wake Up", produced by Triple M.
Terry also was touring with Ayman and the P. Diddy tour, with TV appearances at "The Dome", "Top of the Pops", "ZDF Fernsehgarten" and the "Friedrichstadtpalast" in Berlin, performing along with Jennifer Rush, Sasha, Band ohne Namen and DJ Bobo.
In 2006 he founded his own agency "Lovique Agentur", being responsible for leadership, marketing and coordination of concerts and creation of new projects, as well as supporting new artists in the area of artist-marketing and event-management. www.terrylovique.com


Christian Prüfling
Christian Prüfling was born in Weiden, Germany. His musical talent was discovered and supported at the early age of 9. After moving to Berlin he studied classical, gospel and jazz piano and performing with the Choir "Zeitzünder", a 50-voice community choir as a pianist and vocalist.
In the year 2000, working now as a professional pianist led him to great performances on many music events in Berlin, such as FEZ Wuhlheide, Volkspark Mariendorf, at Berlins "Grüne Woche" convention, Quasimodo and Junction Bar.
He worked with many of Berlin's top performers, such as Ingrid Arthur/Weather Girls, Terry Lovique, Gordon Gatherer, Pamela Knight "Spike", Troy Afflick and Keith Tynes.
Later he worked for studio projects for Donna Brown "Black Gospel Pearls" and Ayman with the producer Leon Larkin.
His works continued on events, such as the RTL Magic Media Night, the IFA in Berlin, the Europe party of radio NDR MV, the CasaBar in Zurich and the gospel choir meeting in Brandenburg 2008.
Since 2006 he works as assistant of production and web designer for Lovique Agentur , as musical director for the Black International Gospel Singers (BiGS) and as pianist and Hammond player for the Berlin-located "Modern Gospel Choir".
www.chriskeys.net


Alexander Kihm
Alexander Kihm was born in Berlin, Germany. Music, Art, Africa, "Black America" and show-business are the foundation, which describe his life and his interests the best.
After 14 years of working for a big economy-company he decided to change his profession.
In 1999, he got involved in artist management, personnel management, tour management, press/media work, merchandising, organization and coordination of concerts for the international known artist Queen Yahna, as well as for other artists in the music area of R&B, Jazz, Soul, Blues, Gospel and Opera.
In the same time, he painted his interpretation of "African Pop Art". In 2004, his new creation led him to a big exhibition of his African art at the South-African embassy in Berlin, Germany.
Since 2008, he works freelance for Lovique Agentur, where he is responsible for the creation and presentation of concepts.